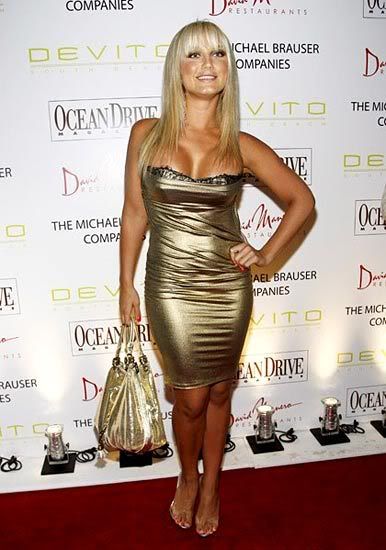 The Price Above Boobies:
Dolly Parton
has often joked, "It costs a lot of money to look this cheap." We figure the same applies to
Hulk Hogan
's little girl
Brooke
, 19 (no, really), so we decided to crunch a few numbers. Metallic halter dress from Bebe: $139. Bottle of baby oil needed to wedge herself into metallic dress from Bebe: $4. Scissors to cut it off at the end of night: $3. One-night rental of Suzanne Somers' bleach blonde Chrissy wig from "
Three's Company
": $35. Clear heels found on sale at the Scores gift shop: $50. Blast from a makeup gun set a few clicks north of strumpet: $35. Preternaturally perky boobs that can double as a handy chin rest: Priceless (on second thought, it's probably more like $8,000 and change). (John Parra/WireImage.com)